Water Never Tasted So Pure
Fidelis Elite Systems makes it easy to enjoy soft, clean, delicious water in your home with our reverse osmosis systems. Our FILMTEC™ TFC membranes offer superior filtration with more filter layers to separate water molecules from impurities. Our systems use your house water pressure to squeeze ordinary tap water. All of the rejected impurities are then rinsed down the drain, leaving clean and great tasting water.
To ensure you receive convenience in addition to great water, we have combined this fantastic reverse osmosis process with other quality components to create a compact drinking water appliance that fits neatly under your kitchen sink! All of our systems are built to last with minimal maintenance required; soon you'll be enjoying fresh, refined water and saving money at the same time.
Attractive, designer faucets will be the perfect feature for any kitchen. Choose your own distinctive color in our oil-rubbed bronze, chrome or satin nickel options that are manufactured to the highest industry standards. NSF-certified materials and stainless steel construction with a ceramic disc for positive shut-off are what you need.
Servicing has never been easier with our exclusive, quick-connect cartridge filtration system which makes changing the filters yourself a snap! We can even hook up your icemaker and refrigerator water dispenser. Explore our range of reverse osmosis water systems below.
Pure Advantage
How it Works?
Our Pure Advantage system uses a 5-stage reverse osmosis process to create an abundant supply of clean, clear, great tasting water at your fingertips. Instead of purchasing hundreds of bottles of water each year, feel confident about the water in your home with a system that's used by major bottled water companies.
Reverse osmosis is one of the greatest technological breakthroughs of this century, processing and treating water at a molecular level to remove any impurities and excess dissolved salts. With our FILMTEC™ TFC Membrane for increased purification, this system is made for excellent performance, reliability and serviceability.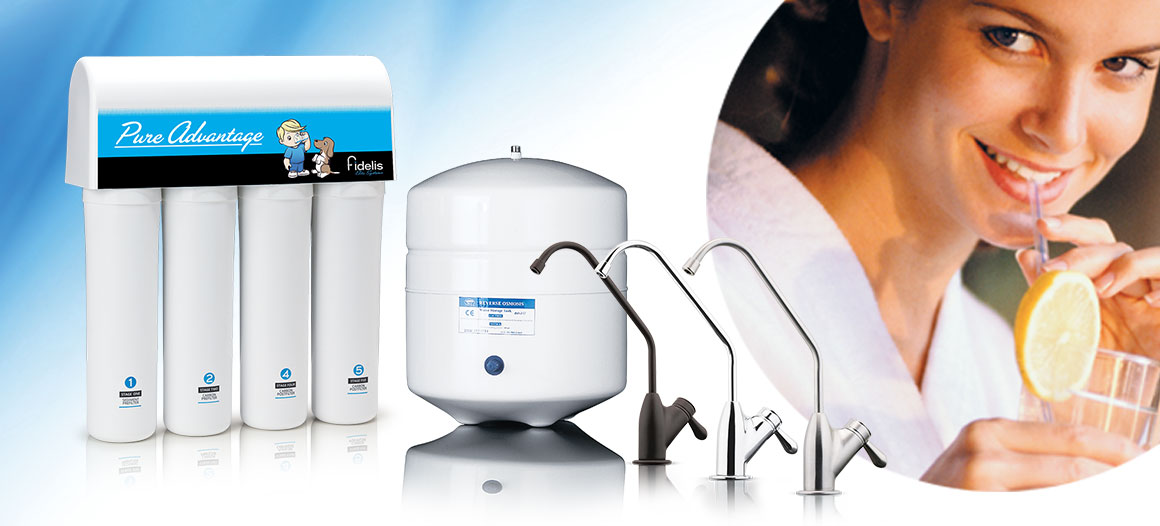 System Benefits
Outlined are the numerous benefits you will recieve when choosing our system
---
Ideal for creating healthy baby formulas and safe for pets. Also perfect for those on low sodium diets and those with dry skin.
---
Water for drinking, cooking, making ice cubes and brewing coffee or tea.
---
Each system is built to last and offers quick-disconnect filters for easy maintenance.
---
The Pure Advantage system is able to purify 50 gallons per day.
---
Choose the best color to suit your style.
Pure Advantage+
How it Works?
The Pure Advantage+ system uses a 5-state water refinement process featuring alkaline media. After removing impurities from your water using our breakthrough reverse osmosis process like with our Pure Advantage system, this system adds minerals to your water for optimum health. Whether you want better-tasting water or you want your water to boost your immune system, this system will take care of all your body's hydration needs.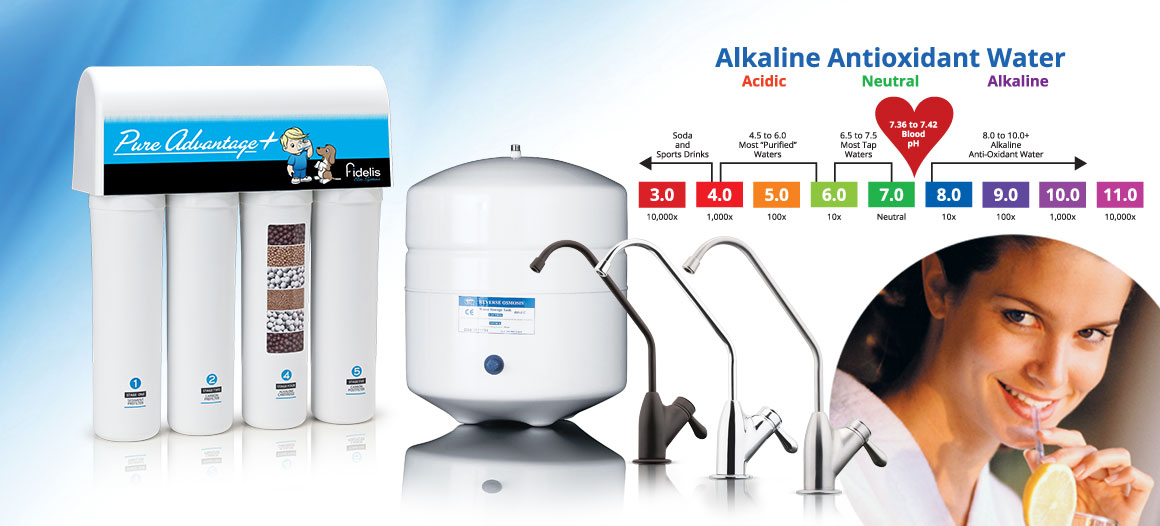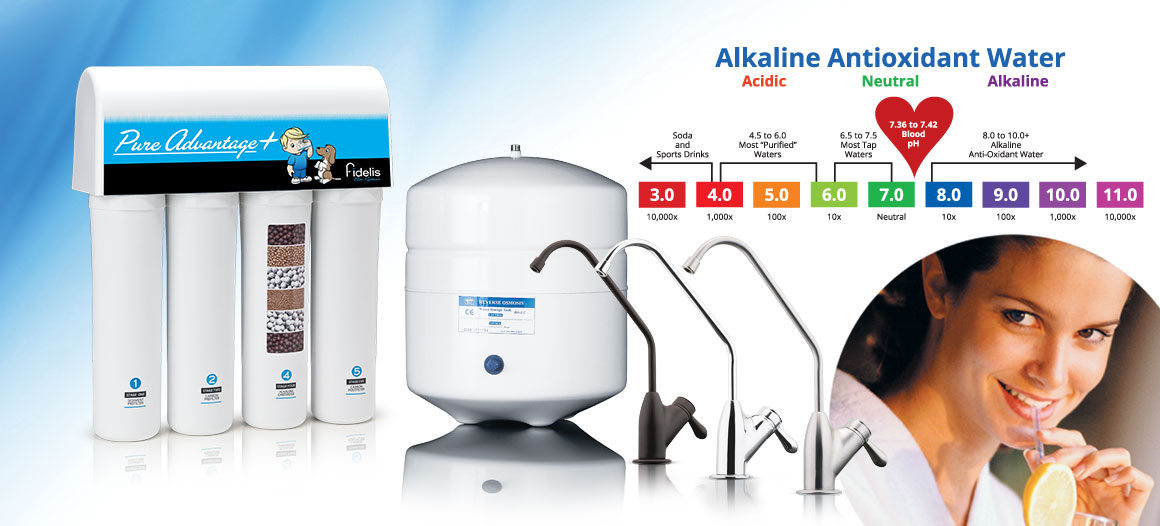 System Benefits
In addition to the benefits of the Pure Advantage system, the Pure Advantage+ system offers the following health benefits:
---
Remove toxins and neutralize acid wastes from your body that have accumulated.
---
Hydration is a basic necessity that we sometimes take for granted. Ensure "super hydration" by enjoying alkaline water, your body can more easily absorb the hydrating properties.
---
Block free radicals from damaging your body; alkaline water converts them into oxygen, meaning you access increased energy production and tissue oxygenation.
---
Fight the high acidity of your body's pH that's caused by stress and environmental toxins.
---
Make sure your body is able to fight off diseases by enhancing your immune system with the minerals involved with our Pure Advantage+ system.