Multi-Stage Water Refinement Products
The refinement systems at Fidelis Elite Systems remove bad tastes, odors, bacteria and impurities using our refinement process. Efficient and durable, each system enables softening, filtration and neutralization and can be customized to fit your needs. All three of our refinement systems offer the following benefits:
Efficiency Thorough 8-cycle regeneration Economical 24-volt power requirements Efficient, 4-directional cleansing Full one-inch porting and manifold, allowing full pressure and flow One-piece, glass-reinforced Noryl® valve for rugged strength Teflon® coated piston
Durability Blow-molded, high-density polyethylene NSF and FDA approved inner shell, providing leak-proof and maintenance-free operation External thermowound fiberglass windings for strength and working pressures up to 120 psi Atmospheric break to insulate tank and eliminate condensation Highly-polished, 22 gauge stainless steel outer cover for a sleek appearanc
Ease of Use Exclusive electronic digital control valve Electronic backlit display No gears to break Automatically calculates usage, capacity, and reserve volume Eliminates mechanical meter & cable Motor only runs during regeneration Flow indicator Knows how much water is used and when Simply set time of day and hardness
Hyperion Elite
Hyperion Elite offers a state-of-the-art 5-stage water refinement system for your home. This 5-stage refinement process is controlled by our exclusive electronic digital control valve and uses 50% less salt than comparable systems.
Granulated Activated Carbon: Removes and reduces both chlorine and chloramines used by the city to kill bacteria, while removing foul odors and taste. Removing and reducing chlorine and chloramine levels is important to copper pipes, as well as fixtures with rubber stops and fittings.
Softening: Ultra high-capacity commercial grade resin softens the water to zero hardness.
Neutralization: Synthetic zeolite adjusts the pH of mildly acidic incoming water up to 0.3.
Filtration: A highly efficient media of aluminum silicate filters incoming water to 20 micron range, removing suspended solids not visible to the naked eye.
Clarification: Silica/quartz base polishes the water to a sparkling clarity while ensuring even distribution.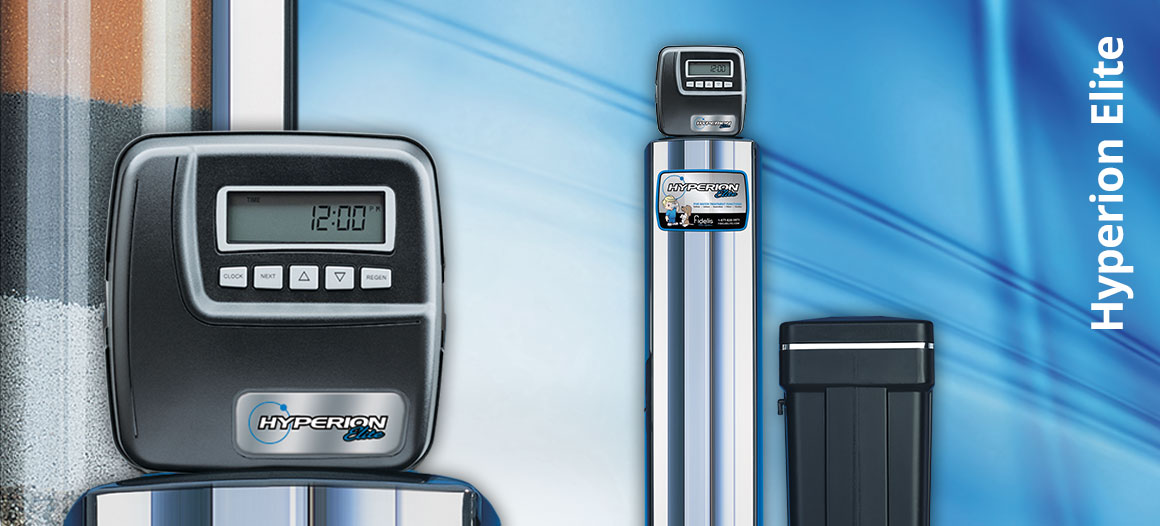 Hyperion Elite+
Hyperion Elite+ offers the same state-of-the-art 5-stage water refinement system for your home, but with a 3 tank system! Salt Tank Construction Extra large capacity Safety overflow prevention float Blow-molded, high-density polyethylene NSF and FDA approved tank with ultraviolet inhibitors Periodic addition of rock salt required